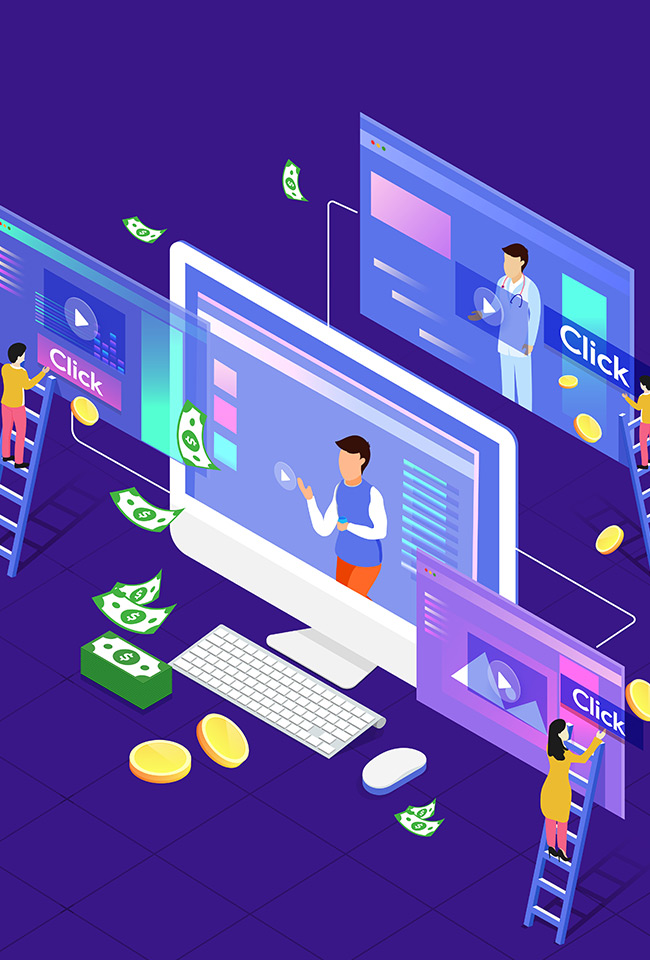 Back to services
Facebook, social networks and Google Advertising
These days it's no secret to anyone that a successful business is possible via carefully maintained and released ad campaigns. If SEO Optimization is the first step towards building a successful business platform online, then ads and reaching a bigger target audience is the second mandatory step that guarantees success, brand awareness, and building trust.
It doesn't matter whether your sphere of expertise is positioned in a big and well-developed niche or you bring to the market little known products and services - having ads is a must while maintaining a successful business.



Pros of advertising on social media and Google
Facebook and other social media are some of the best options for reaching targets and high scores in terms of advertising. The reason behind this is more than clear - billions of people worldwide spend a daily huge amount of their personal time on Facebook or Instagram. There they share with the vast number of friends and connections information that leads to their interests, lifestyle, hobbies, and jobs.
We can't possibly miss mentioning Google in the equation - the biggest search engine in the world sorts on a daily basis billions of users' searches and requests leading to the most relevant results. It's more than clear that advertisers and business owners will point their effort precisely at advertising on Google.


What do you get from maintaining ad campaigns on Facebook and social media:
• social media is a great source of an audience that is highly likely to be turned into new potential customers;
• on Facebook you can point your ads directly at a certain type of people who have certain demographics characteristics and interest - this makes them a relevant target audience;
• you filter your ad campaigns audience by criteria such as gender, age, place of living, marital status, a sphere of interest, and job titles;
• you ensure big traffic towards your website;
• you get immediate results regarding the success of your ad campaigns;
• you can communicate with your clients via direct messages or comments;
• you optimize your ad budget since the attractive ad campaigns are often shared between users;
• you can reach a potential target audience also on Instagram as well as on the audience network;


What do you get from ads on Google via the GoogleAds service?
• if your business, products, or services are connected with certain keywords while searching, you have the opportunity to place ads at the top and at the bottom of the results page;
• if you want to reach a great deal of potential new customers, then the search engine is the perfect place to start - on a daily basis Google is being used by billions of people worldwide;
• you have the chance to target users who are near to your location;
• you advertise your business by combating your business opponents;
• you optimize your ad budget via the 'pay per click' service;
• you can target an audience filtered by gender, age, interests, and location;


Why you should choose Eurocoders for building, maintaining, and organizing your ad campaigns on Facebook, social media, and Google?
• we have a great experience of maintaining successful ad campaigns on social media and the world's biggest search engine;
• we put our trust in flexible and different ad approaches to guarantee the success of the campaign;
• we examine in-depth the precise audience for your business, product, or service and target the ads in such a manner so that they can reach potential customers;
• our team will research the best keywords and semantic phrases from your business niche and will point the ads directly at them so that they can answer the users' search and requests;
• we target users' that have already visited your website;
• we have a deep understanding of how social media and Google work;
• we will research your business opponents and will target your ads to the most relevant users;
• we take in mind the users' search intent when making an ad campaign so that it will show up to a certain request;
A huge amount of users and potential clients daily spend so much time on social media and Google. That's why advertising there is so important for your business. Facebook and Google ads are some of the best ways for popularising your products and services, reaching a great number of users.
The Eurocoders team has the needed resources such as professional approach, creativity, and understanding of the specifics of social media, search engines, and users' intent in order to utilize a really successful ad campaign. Trust us!
WHY US?
Rich experience in project management.
Adequate solutions, perfectionism and functionality.
Successful implementation of projects.
We master the art of being creative.
OUR PASSION FOR WHAT WE DO LED US HERE. OUR VISION GUIDES OUR BUSINESS EVERY DAY - TO PROVIDE THE WORLD WITH THE BEST IT CONSULTING AND SOFTWARE DEVELOPMENT SERVICES IN EUROPE WHILE TAKING CARE OF OUR PEOPLE AND HONORING OUR VALUES.
Get a Call Back
If you need to speak with us about a general query, fill out the form below and we will call you back within the same working day.