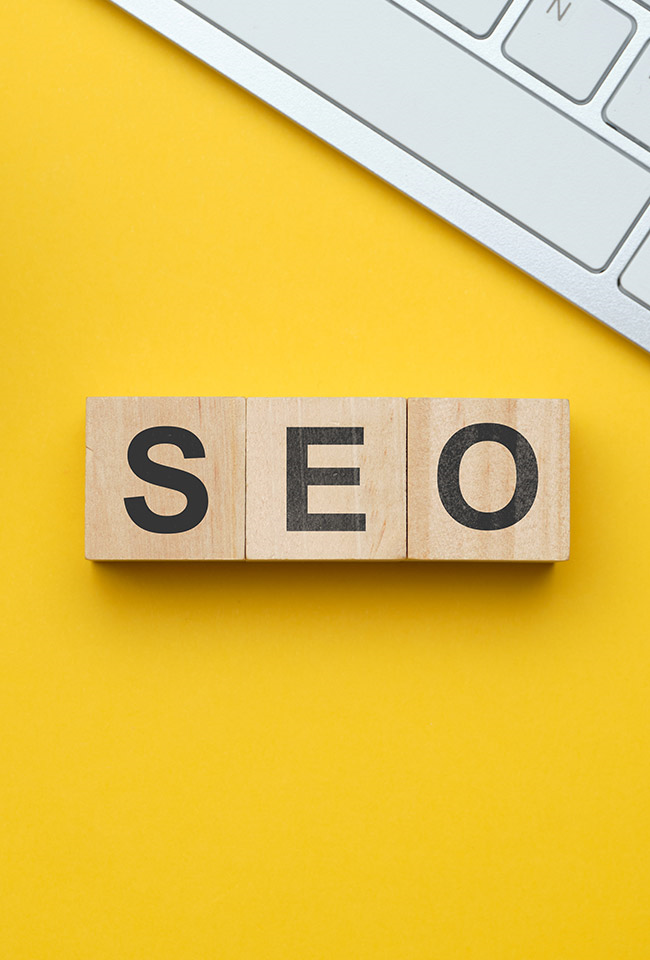 Back to services
SEO optimization
SEO Optimization (Search Engine Optimization) is one of the complete digital services offered and developed by Eurocoders.
Our team has a deep understanding when it comes to the importance of a website positioning well in search engines such as Google, Bing, Yahoo, etc. If the matter regarding SEO Optimization is still unclear and vague for you, our team will be more than happy to shed some light. We'll get you to know the essence of the service, as well as the core features needed for its development.


What exactly is SEO Optimization, and why it is of great importance for maintaining successful websites and businesses?
SEO stands for Search Engine Optimization, which is the practice of enhancing your site visibility on search results, increasing the quantity and quality of traffic to your website through organic search engine results.
According to the statistics, the first 5 to 10 results on the web get over 90% of the search queries. It is more than clear why it is so important for your website to be on the first page of search results.
We live in a time when almost each and every business has its own digital equivalent. It's only logical for a service to be transferred to the web. The good positioning of your website makes it far more visible for your future clients. We strongly believe that professional SEO Optimization is the most secure and profitable way in creating a strong online presence. It will bring some new customers to your web page. In that way, the initial SEO investment will quickly be compensated.
In order to utilize stable positioning in the search engines, our team manages various techniques and services, each of which shall help your website to maintain stable and high positions on the results page.


OnPage SEO - we start with a required website audit
In order to put into action the various SEO strategies for a good website positioning, we first have to do a complete audit.
SEO Audit is what we call the check-up of the current website state. We analyze the current indexing of the website and we emphasize the omissions that lead to not good enough positioning. Some of the steps we put into action are:
• configuring XML/HTML Sitemaps;
• checking the HTTP/HTTPS versions of the website;
• checking and systematizing of 404 pages;
• checking and systematizing redirects (301, 302, etc.) and their development;
• checking and evaluating the existing URLs - length, clarity, SEO friendliness;
• analyzing the digital files in the website - quality status of pictures and photos, checking for broken images, missing alt tags;
• analyzing the existing text content - checking the texts, the existence of meta descriptions, checking if there is a suitable SEO structure (H1, H2, H3, etc.);
Of course, the complete website audit, offered by Eurocoders, contains plenty of tests and check-ups. Some additional information you can get by submitting a request - we will be more than glad to create a personal offer for you.


Creating strategies for content
Content strategy is obligatory for a good SEO service. Our team takes into mind the niche of your business and creates a semantic core that includes the most searched for keywords. This helps our team to focus its effort on these semantic word-groups when creating adequate content for your website. We also keep in mind the target users' topics of interest – we observe the users' intent and expectations while searching by exploring in detail and depth the semantic phrases and questions. Some of the services in creating content include:
• Competition research;
• Research and analysis of keywords;
• Content audit;
• Content strategy creation;


OffPage SEO and creating quality link-building
Good SEO Optimization requires quality links that lead to your website. Some of the good practices include creating content with suitable keywords or brand mentions. Our OffPage SEO strategies are based upon the quality link-building feature. We offer the creation of a stable link structure with trusted and well-positioned sources that will lead to your website. In that way, you can easily increase the trust and the high quality of your brand in the search results.


The Eurocoders team treasures clear and frequent communication
By choosing the Eurocoders team, you will be shortly noticed about the SEO development of your website. We will send monthly reports and you will be able to monitor the work of our team. The first SEO results shall be witnessed within the first half a year since the strategies deployment (this term is indicative and it may vary to the specifics of your niche and the online presence of your major competitors).
We offer an SEO audit that will serve you as a great starting point. We also offer subscription deals for maintaining the highest possible ranking positions.
We will be more than happy to answer all of your questions as well as to create an individual offer for you, having in mind the specifics of your business. We guarantee an individual approach and keeping in mind your expectations and preferences. Get in touch with us straight away and we will make an appointment.
WHY US?
Rich experience in project management.
Adequate solutions, perfectionism and functionality.
Successful implementation of projects.
We master the art of being creative.
OUR PASSION FOR WHAT WE DO LED US HERE. OUR VISION GUIDES OUR BUSINESS EVERY DAY - TO PROVIDE THE WORLD WITH THE BEST IT CONSULTING AND SOFTWARE DEVELOPMENT SERVICES IN EUROPE WHILE TAKING CARE OF OUR PEOPLE AND HONORING OUR VALUES.
Get a Call Back
If you need to speak with us about a general query, fill out the form below and we will call you back within the same working day.